Agile Studios
Agile Studios is an application that allows you to teach/take live, interactive dance/fitness masterclasses around the world. Taught 1-2-1 or 1-2-many, taken as an individual or in a studio with others. Imagine Google Hangouts with special features and hardware to make teaching dance/fitness a real possibility online.
If you would like a more in depth explanation [read more="Click here" less="Read Less"]

[/read]
Kwesi tried using Skype to do this project however the experience was unbelievably frustrating because he found many limitations, for example:
Constant buffering
Poor picture/sound quality
Restricted to the use of one camera
No payment integration
The list was endless however when there is a problem, creatives often find a solution. This is what prompted Kwesi to develop the project after his initial conception in 2012 when the technology didn't exist.
We are running tests so we build a remarkable product be we need you to let us know what you think would be remarkable, so your feedback is really important.
---
Martelo Tower P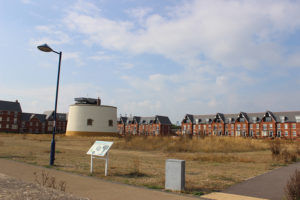 Kwesi's most recent project was with The Cultural Engine & Suffolk Coastal, where he developed a plan to diversify The Martelo Park area in Felixstowe. The plan had to be quirky, make good business sense and attract people to the area. He developed the idea of an artists village that would house artists and their products.
This is a mock up to give an idea of what may transpire. The rental from the beach huts style units, keeping with the seaside theme, will support the upkeep of the Martelo Tower. This enabled the tower to continue to be part of the community and a heritage site. There were a few suggestions about it becoming a museum, however committing to this would make its use fixed. In order for the space to remain flexible he proposed the history could be told through a virtual reality experience. This would also enable the tower to host virtual reality films and events, attract younger people and make great use of the equipment and creating something else unique for the area.
He had to consider the business case for luxury accommodation, offices, a community centre and exhibition space to name a few. He felt they were all valid ideas however he didn't want to create a space that would struggle financially as a lot of community and arts spaces do if they rely soley on the community and art.
When one applies an artistic/creative vision to a problem then a host of solutions are possible. This reiterates his belief that creativity is king.
Folded Space
Is a publicly led pop up arts space in an unoccupied retail space in Southend On Sea. The objective is to drive footfall to the shopping centre and town through creating experiences rather than relying on retail. As we know retail by itself is losing the battle of the High Street. Follow the link to the page for The Cultural Assembly who power Folded Space
Royal Opera House Conference 2018
Extract from the closing of the conference.